Build Zimbra 9 OSE dengan Repositories GitHub
Build Zimbra 9 OSE dengan Repositories GitHub, Dengan dirilisnya Zimbra 9, ada banyak pertanyaan tentang status Open Source Zimbra dan komitmen Synacor terhadap Open Source sebagai praktik dan komunitas. Synacor tetap menyediakan Zimbra 9 dengan versi Open Source Edition (OSE), akan tetapi pada Zimbra 9 OSE untuk Modern UI dan beberapa komponen yang ada di Zimbra 9 Network Edition tidak disertakan dalam Zimbra 9 OSE. Untuk source code Zimbra 9 tersedia pada repositori Zimbra di GitHub, Kecuali Code Modern UI  dan komponen dalam Zimbra 9 NE yang merupakan closed source. Untuk mendapatkan Code Modern UI dan komponen lengkap Zimbra 9 bisa melakukan pembelian License Zimbra.
Untuk Rilis Zimbra 9 OSE sudah tidak tersedia pada website resmi zimbra, pada website resmi zimbra hanya tersedia versi sebelumnya yaitu versi Zimbra 8.8.15 OSE. Untuk mendapatkan rilis Zimbra 9 OSE dalam hal ini, perlu melakukan build atau membuat packages .tgz menggunakan repositori zimbra di github. Untuk melakukan Build Zimbra untuk beberapa versi Operating System (OS) Seperti CentOS 7, CentOS 8, Oracle Linux dll bisa menggunakan 1 server saja. Bahan-bahan yang dibutuhkan sebagai berikut
Server dengan spesifikasi (2 Core CPU, 4 GB RAM, 50 GB HDD)
CentOS 8
Github Account
Internet Connection
A. Membuat SSH Key untuk GitHub
1. Open https://github.com/
Lakukan registrasi/sign up pada github
2. Generate SSH Key pada server CentOS 8
Format melakukan Generate SSH Key seperti berikut
ssh-keygen -t ed25519 -C "Email_registrasi_GitHub"
Berikut contohnya

cd ~/.ssh
ssh-keygen -t ed25519 -C "github@saad.web.id"

Tekan enter terus, tanpa memasukan password
3. Login ke github
4. Klik Icon User > Settings > SSH and GPG Keys.
5. Copy isi file id_ed25519.pub ke kolom SSH keys seperti pada gambar berikut. Kemudian klik Add SSH Key.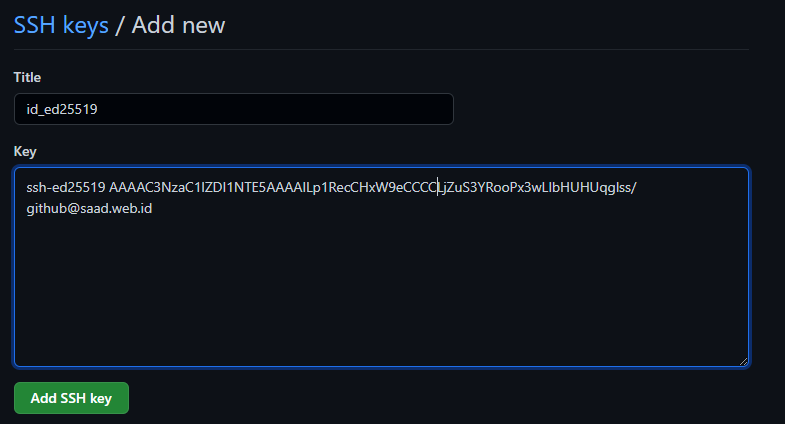 5. Masukan perintah berikut untuk cek koneksi ke GitHub
ssh -T git@github.com
6. Ketik yes, Enter
Are you sure you want to continue connecting (yes/no)? yes
Warning: Permanently added 'github.com,20.205.243.166' (RSA) to the list of known hosts.
7. Bila koneksi berhasil akan muncul seperti berikut
Hi github Saadwebid! You've successfully authenticated, but GitHub does not provide shell access.
B. langkah Build Zimbra 9 OSE.
1. Update dan Install Repositori CentOS 8

sudo yum groupinstall 'Development Tools'
sudo yum install java-1.8.0-openjdk ruby git maven cpan wget perl-IPC-Cmd
sudo yum config-manager --set-enabled powertools
dnf module enable javapackages-tools
dnf install ant-junit

2. Buat direktori untuk build dan periksa repositori zm-build

cd /home
mkdir installer-build
cd installer-build
git clone https://github.com/Zimbra/zm-build.git
cd zm-build
git checkout origin/develop

3. Build Zimbra 9 OSE
Untuk Packages .tgz CentOS 8 yang terbaru di https://www.zimbra.com/downloads/ adalah
zcs-NETWORK-9.0.0_GA_3954.RHEL8_64.20200629045300.tgz
Dari sini akan dibuatkan Zimbra 9 OSE dengan perintah berikut:

./build.pl --build-no=3954 --build-ts=20200629045300 \
  --build-release=KEPLER --build-release-no=9.0.0 \
  --build-os=RHEL8_64 --build-arch=x86_64 --pkg-os-tag=r8 \
  --build-release-candidate=GA --build-type=FOSS \
  --build-thirdparty-server=files.zimbra.com --no-interactive

tunggu hingga prosesnya selesai
4. File Zimbra 9 OSE .tgz ada pada direktori /home/installer-build/BUILDS/RHEL8_64-KEPLER-900-20200629045300-FOSS-3954

cd /home/installer-build/BUILDS/RHEL8_64-KEPLER-900-20200629045300-FOSS-3954

5. Selesai
Selamat mencoba
Video tutorial:

Berikut layanan yang ada di saadwebid terkait zimbra
Layanan Jasa Maintenance Zimbra
Layanan Jasa Migrasi Zimbra Mail Server
VPS/Cloud Zimbra
SSL Zimbra Mail Server
SMTP Relay
Layanan Antivirus, Antispam dan Antimalware