Membuat Notif Warning Quota Mailbox Zimbra
Zimbra memang aplikasi mail server yang bisa menampung ribuan akun email di dalamnya. Tiap akun email memiliki kapasitas quota mailbox untuk menampung transaksi email. Apabila quota akun penuh, maka secara otomatis email yg masuk akan bounce / tertolak. Untuk dapat mengatasinya, admin mail server harus selalu memonitoring kapasitas mailbox tiap akun email. Namun ini menjadi kendala, apabila akun email yg di monitoring admin mail server berjumlah ribuan.
Untuk itu dibutuhkan suatu script monitoring yg bisa otomatis memberikan notifikasi, apabila ada suatu akun email memiliki quota mailbox lebih dari batas threshold / batas quota dikataka  penuh.
Pada artikel kali ini penulis akan memberikan script notifikasi warning quota mailbox zimbra menggunakan bash dan PHPMailer. Notifikasi akan dikirimkan dari server menggunakan PHPMailer ke email admin mail server.
Install Terlebih dahulu php-cli dengan perintah berikut (Centos 7)
yum install php-cli -y
Download file monitoring dan letakkan pada directory /opt

cd /opt
wget https://saad.web.id/wp-content/uploads/2018/09/overquota.zip

Extrak overquota.zip

unzip overquota.zip


Ubah menjadi execute mode file .sh

chmod +x /opt/overquota/quotawarn.sh

Ubah konfigurasi pengirim notifikasi email

nano /opt/overquota/sendreport.php

Ubah pada baris berikut sesuai konfigurasi smtp akun admin zimbra

   $mail->Host       = "mail.latihanzimbra.ga"; // SMTP server
   $mail->SMTPDebug  = 2;
   $mail->SMTPAuth   = true;                  // enable SMTP authentica$   
   $mail->SMTPSecure = "ssl";                 // sets the prefix to the$   
   $mail->Host       = "mail.latihanzimbra.ga";      // sets GMAIL as t$   
   $mail->Port       = 465;                   // set the SMTP port for $   
   $mail->Username   = "admin@latihanzimbra.ga";  // GMAIL username
   $mail->Password   = "latihanzimbra";

   $mail->setFrom('admin@latihanzimbra.ga', 'test gmail');

   $mail->Subject = '[ZIMBRA] Warning Quota Account '.$date;
   $mail->addAddress('latihanzimbra@saad.web.id', 'Latihan Zimbra');

Masukkan pada schedule crontab, akan berjalan pada jam 1 pagi

crontab - e

masukkan baris berikut

0  1  *  *  *            /bin/bash /opt/overquota/quotawarn.sh

Berikut tampilan notifikasinya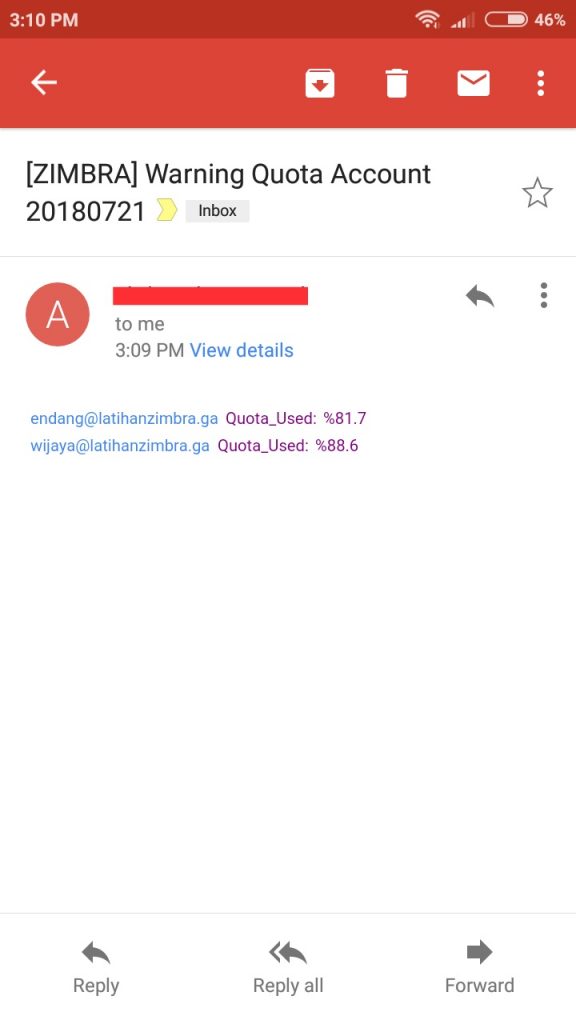 Selamat Mencoba….
Berikut layanan yang ada di saadwebid terkait zimbra
Layanan Jasa Maintenance Zimbra
Layanan Jasa Migrasi Zimbra Mail Server
VPS/Cloud Zimbra
SSL Zimbra Mail Server
SMTP Relay